Jan. 26
Faye Signed Contract With PEPSI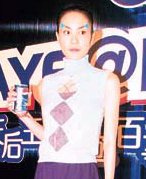 Faye revealed that the media had exagerated the amount she is getting from Pepsi and she will not be using Pepsi to make herself better known internationally. When asked about the "booing" incident in the JSG ceremony, she felt that she wouldn't mind, and that she certainly would not cry because of that.
Jan. 24
More Awards Won by Faye!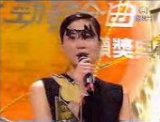 Faye won 3 awards in JSG Awards Ceremony '98. During the ceremony Faye wished for more music, and less gossip in the music scene. The 3 awards are:

Gold Song Award - Love Commandments

4-Channel Music Award - Love Commandments

Most Popular Female Singer Award

Real Videos are now available from FAYE's LIVE in HK site
MP3s of Faye's Song Tour Concert 99 is now available online thanks to Steve:
http://members.tripod.com/fei_fei/
Jan. 20

Faye received the Hit Asian Female Singer Award from Metro Radio's Hit Radio 997 Awards '98 .
Jan.18

(Picture from Alex)
Faye appeared on CNN!!
Faye mentioned that she knows the existence of Fayenatics and that she has already listened to the Fayenatic CD. She also said that her attitudes towards the media have not changed. On her acting, she gives all credit to Wong Kar Wai.
Interview in RA: Intro | Part 1 | Part 2 | Part 3
(Real Audio clips recorded by Fayecination)